Working together to conserve the Glossy Black-Cockatoo and its habitat
The Glossy Black Conservancy (GBC) is an independent conservation and research association that provides resources, training and support to the broader community to help identify and learn about the charismatic Glossy Black-Cockatoo.
This website contains the resources needed to help you learn about the general biology of the Glossy Black-Cockatoo, how to identify one in the bush and what you can do to help conserve this charismatic threatened species.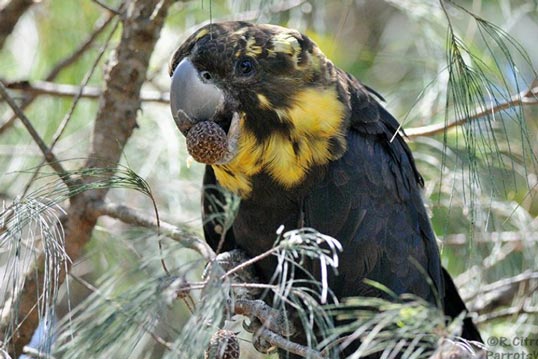 Image by: Rebecca Citroni

Glossy Black-Cockatoo sightings
Across south-east Queensland and north-eastern New South Wales the Glossy Black Conservancy provides educational resources, undertakes training, supports research and collects and manages vital species data for the conservation of the threatened Glossy Black-Cockatoo.
Sighting
Note: Displaying up to 160 observations
Learn more about the Glossy Black-Cockatoo and get involved in its conservation
As our 2021 Glossy Black-Cockatoo Birding Day approaches, we're keen to …
Each year, we call on bird lovers across Southeast Queensland and …
The Glossy Black Conservancy relies on the combined efforts of its …
Frequently Asked Questions




Get in touch with the Conservancy to find out how you can get involved, or submit a sighting today!