The 2021 Glossy Black-Cockatoo Birding Day takes place 11 – 12 September 2021. Register to volunteer now at bit.ly/GBCvolunteer.
The Glossy Black Conservancy is currently looking for volunteers to assist with annual monitoring efforts throughout the north-east New South Wales and south-east Queensland region. Monitoring routinely takes place with the annual Birding Day that is held each year, alternating with events in May and October. In addition to this, members of the community are encouraged to report sightings of Glossy Black-Cockatoo outside of these specific event days through the online reporting system.
Participate in the annual Glossy Black-Cockatoo Birding Day
The Glossy Black-Cockatoo Birding Day covers the south-east Queensland and north-eastern New South Wales regions. The annual Birding Day began in 2010 and is an initiative supported by the Glossy Black Conservancy and its partner agencies. The Birding Days serve to raise awareness about the species in the broader community while also gathering information about the distribution, habitat use and population structure of the threatened Glossy Black-Cockatoo.
Volunteers can survey on public land where Glossy Black-Cockatoo feeding habitat is available or on their own properties if they are often frequented by the cockatoo. We'd love you to help us in our annual survey. Contact your local representative today.
Conservancy Partners offer free workshops, held in your local government area, before the Birding Day to assist volunteers. Attendees learn how to identify the Glossy Black-Cockatoo, their feed trees and feeding remains and provide information on how to collect and report their observations. Along the way, you'll also learn more about the species and habitat protection and management.
Contact your local Conservancy Partner and get involved today.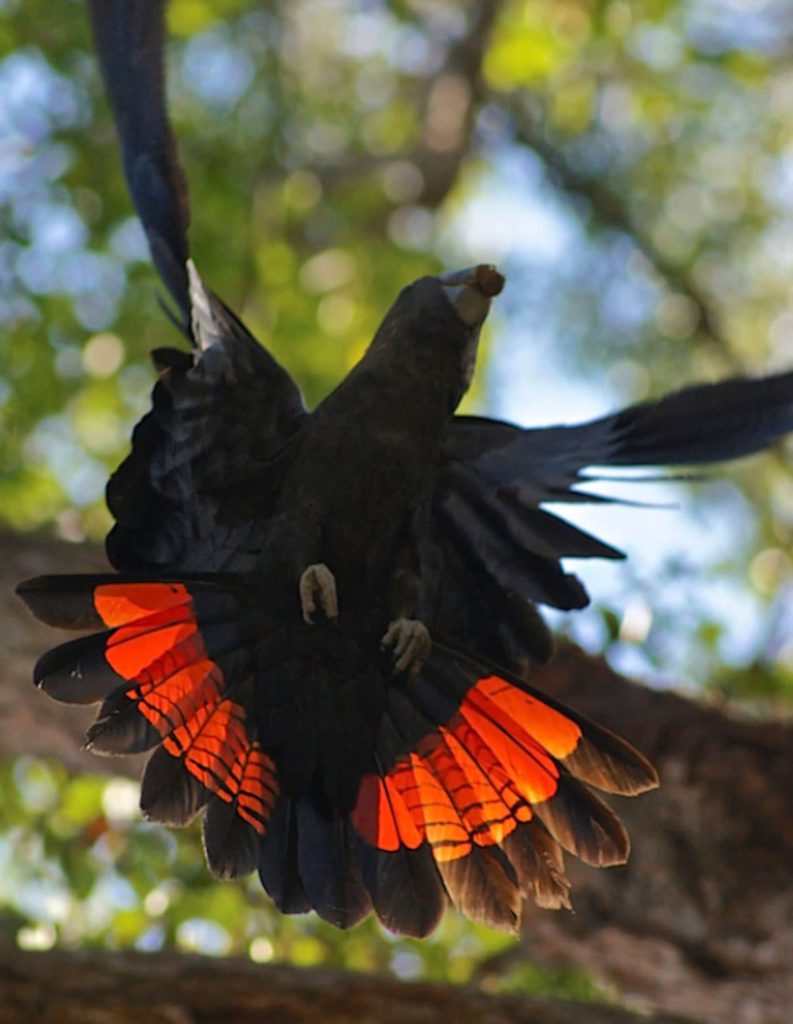 Source: Great Photox Mixed owners/BobbiMarchini_DSC04417
We would like to thank  Hollow Log Homes and Australia Zoo for kindly donating prizes for our 2019 Glossy Black-Cockatoo birding day.
Go Birdwatching in Your Local Area
Glossy Black-Cockatoos are quite widespread but use habitats that provide sufficient foraging resources for them. Target these areas and look and listen for the signs of Glossy Black-Cockatoos, such as chew marks on fallen she-oak cones (orts) and the distinctive sound of cockatoos chewing on the seeds. You can report sightings of birds as well as feeding evidence using the online reporting system. Alternatively contact one of your local councils to express your interest in the annual bird survey or other awareness activities.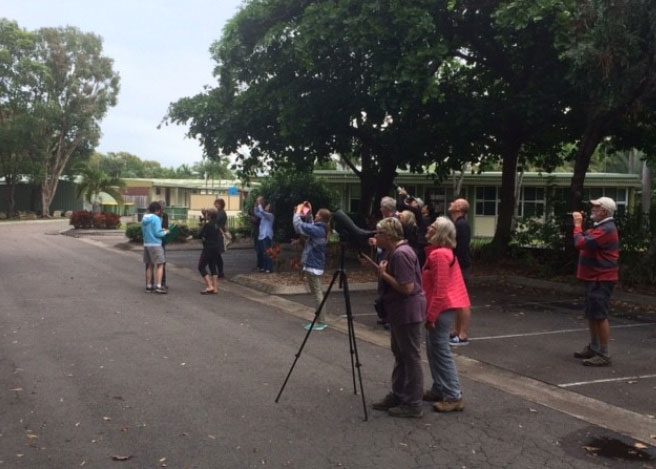 Protect the Habitat of the Glossy Black-Cockatoo
If you have she-oaks on your property, don't clear them – they may provide important feeding resources for Glossy Black-Cockatoos now as well as into the future. Glossy Black-Cockatoos are known to return to reliable feeding sites and even specific trees so make sure to retain these trees and surrounding roosting habitat. You can also contribute by planting up new trees to provide resources that might be lost in other areas through ongoing development. See your garden, school grounds or local regeneration site as habitat for the cockatoo and plant Glossy Black-Cockatoo food trees. The property can be big or small; size does not matter..
Habitat trees for roosting and nesting are also particularly important, especially those large old eucalypts with big hollows. Try and retain these trees and keep an eye out to see what animals might be using the hollows. While it is possible to install nest boxes, these efforts should not be undertaken without due consideration of issues such as the density of natural hollows in the area, the types of species that might make use of the nest boxes and what type of nest box monitoring program will be undertaken. Nest boxes have certainly been used to good effect in some areas to assist with the recovery of Glossy Black-Cockatoo populations (e.g. Kangaroo Island), but these efforts are supported by intensive monitoring programs.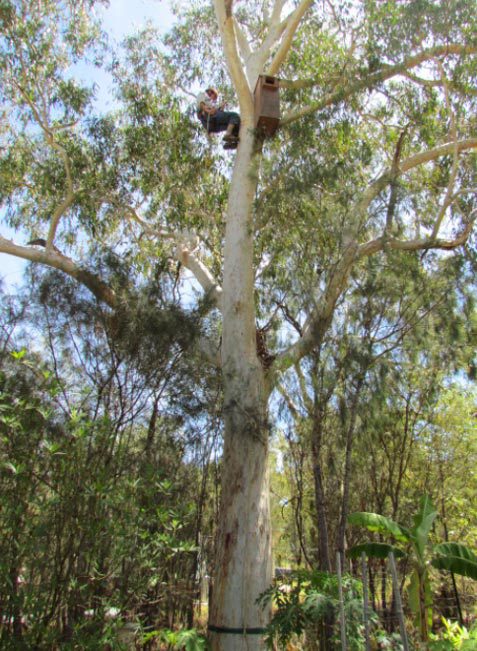 Start or Become Involved in a Local Cockatoo Friends Group
Improving our knowledge of local populations of Glossy Black-Cockatoo will give us a better understanding of the performance of the regional population. There are already some well known areas that have regular sightings being reported by groups of dedicated observers but there could be others – they may simply not have been found yet. If you're interested in getting to know your local birds in a bit more detail the Glossy Black Conservancy can provide some suggestions as to how to develop a monitoring program for them.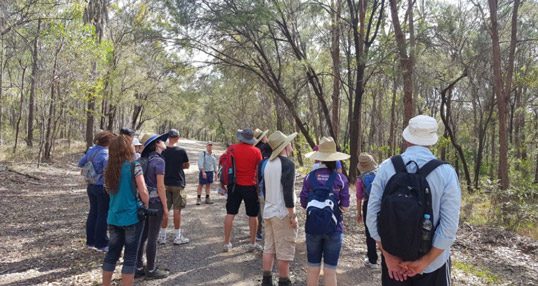 Become a Partner, Friend or Sponsor
The Glossy Black Conservancy (GBC) is an active partnership between government, community and business that provides a coordinated approach to increasing awareness, protection and conservation of the threatened Glossy Black-Cockatoo within south-east Queensland and north-east New South Wales.
Conservancy Partners and Friends collectively achieve significant progress towards habitat protection and restoration, research and community engagement.
There are three levels of membership available to organisations and individuals, which offer options for financial and non-financial contributions: Conservancy Partner; Conservancy Sponsor; and Conservancy Friend. Contact us to find out more about the benefits and responsibilities of each membership level.
Individuals and organisations that are not able to commit to a Partner or Sponsor level of membership are encouraged to be involved as a Friend of the GBC and to also contribute data on sightings of the Glossy Black-Cockatoo to the GBC online database 'Register your Sightings'. So contact us today!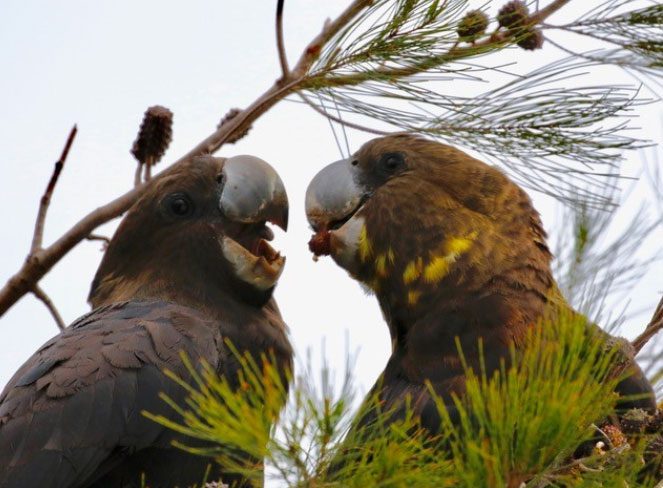 Collaborative conservation for the Glossy Black-Cockatoo. Report your sightings today!
---