An update from our Wildbnb Wildlife Habitat partners by Harry Hackett
Glossy Squad Northern Rivers
Glossy Squad Northern Rivers has been powering along just south of the border. Citizen scientists are honing their skills in identifying Glossy Black-Cockatoo breeding behaviours, in a mission to locate more nesting pairs this breeding season.
Wildbnb's Glossies Northern Rivers Project Team recently joined dedicated Squad members on a couple of stake outs in Brunswick Heads and Koala Beach, following the great sightings intel coming in. Glossy Squad members mobilised in Larnook, Georgica, Roseberry Creek and Upper Mongogarie are also doing a fantastic job keeping the Team updated with glossy activity in their patches. Each week, new recruits are being welcomed into the fold. Glossy Squad's intrepid photographers continue submitting their female glossy headshot profiles, building our Imagebank – it has been an inspiring effort.
Artificial Nesting Hollows
Following all the groundwork of 2022 and relationships forged with private landholders, 48 artificial nesting hollows are installed at strategic locations across the region, with monitoring surveys now underway. Some interesting results so far – a pair of Yellow-Tailed Black-Cockatoos have been prospecting several hollows at one project site. A family of Squirrel Gliders, also listed as Vulnerable in NSW, have taken up residence in a 3-D printed hollow at another.
Minyumai Rangers
The Project Team has been working closely with the Minyumai Rangers at Minyumai IPA, Bandjalang Country. The female Rangers have been leading this work, which has been a two-way information exchange. Glossy Black-Cockatoos, gehrr in Bandjalang language, are feeding at Minyumai in pockets of bilung (she-oak, allocasuarina littoralis in this instance). The Rangers are collecting data at feeding sites for ongoing monitoring and management of this important feeding habitat.
Coffs Harbour Glossy Squad
And in news further afield, Dr Brian Hawkins and his team at NSW Department of Planning and Environment in Coffs Harbour recently launched Glossy Squad Biliirrgan, covering the Clarence, Bellingen, Nambucca & Coffs LGAs. Biliirrgan is the Gumbaynggirr word for glossy. Their incredible efforts and progress on North Coast NSW are definitely ones to keep eyes on into the future. 
Glossies Northern Rivers is a conservation partnership between Wildbnb Wildlife Habitat, WWF-Australia and NSW Saving our Species.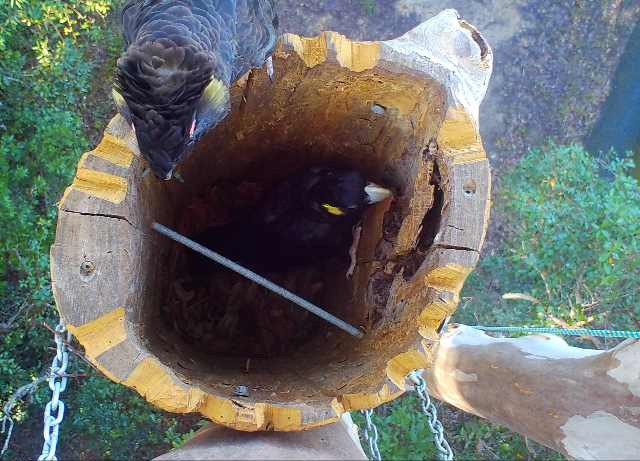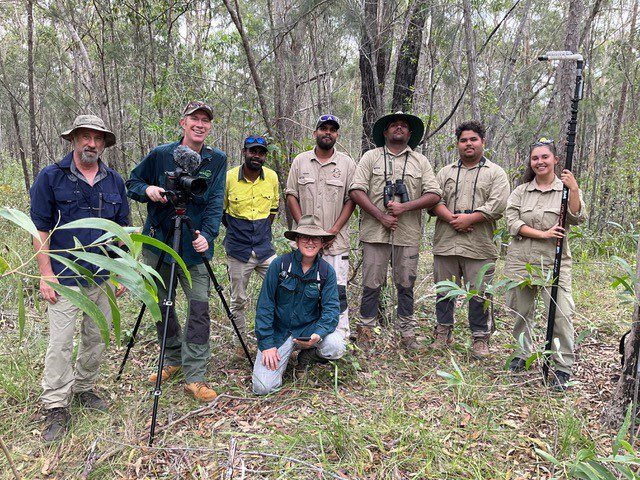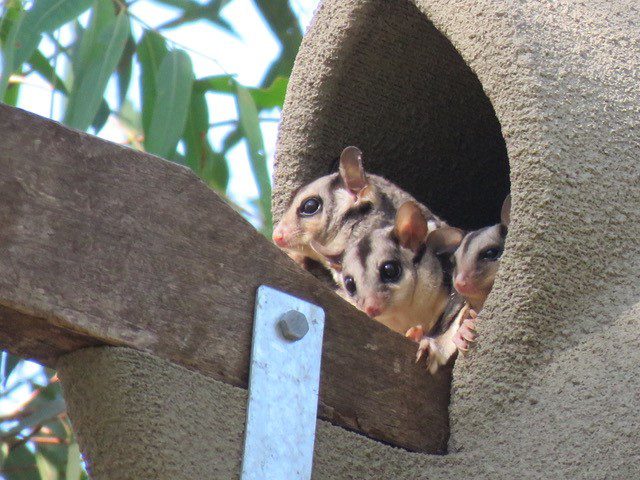 A pair of Yellow-Tailed Black-Cockatoos prospecting an installed Hunk-of-Trunk hollow
Monitoring with the Minyumai Rangers
Image: David Brook, Wildbnb
Squirrel Glider family residing in an installed 3-D printed hollow
Image: David Brook, Wildbnb