Huge thanks to the hundreds of volunteers who joined us looking for Glossy Black-Cockatoos at our Birding Day in September. It took us a few weeks to sort the data but we're thrilled with the results.
In total, people contributed more than 836 hours to observing Glossies and their behaviours over our two day event. And more than 200 grid cells were visited. 90 of those cells have evidence of feed trees and 31 of those sites had birds present
Our volunteers counted 1061 feed trees with two-thirds of those identified as Black She-oaks (Allocasuarina littorals). In the Scenic Rim we had one very experienced observer see a single Glossy feeding on a single River She-oak (Casuarina cunninghamiana).
The infographic below sets out some of the other key data we collected thanks to your incredibly generous volunteering efforts.
We cannot thank our volunteers enough for their huge commitment to Glossy Black-Cockatoos and their ongoing survival in the wild.
If you haven't joined our email list yet, you can do that at bit.ly/joinGBC.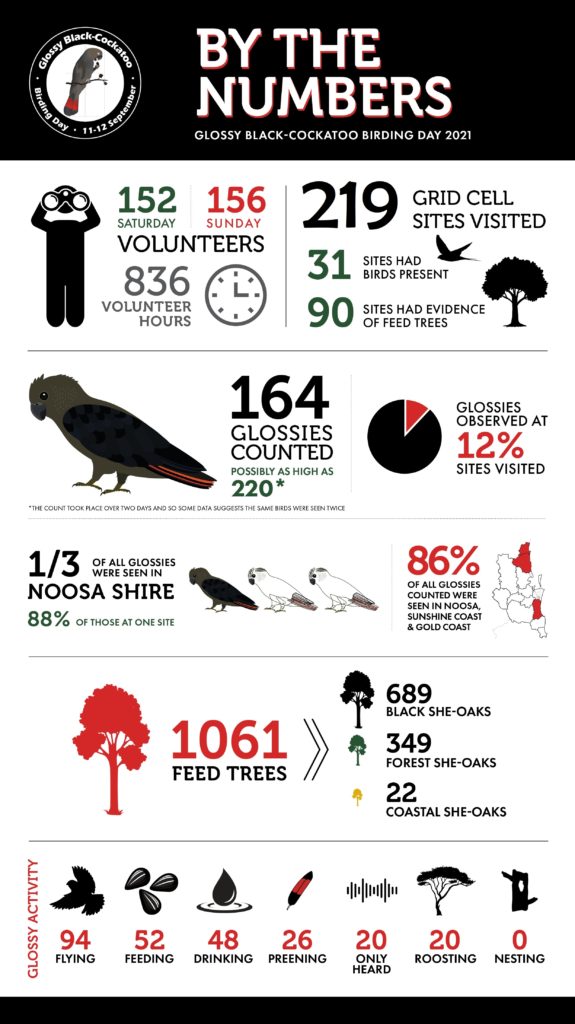 The 2021 Glossy Black-Cockatoo Birding Day was coordinated by Samantha Morris and Elli Webb at Wombat Creative on behalf of the Glossy Black Conservancy 🦅